June 2014 management briefing: advances in lighting (1)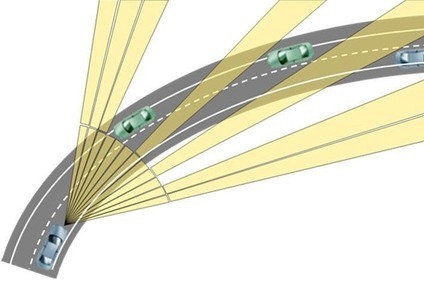 Hella's matrix headlamps "mask out" the approaching vehicles, while maintaining high-beam lighting between the two cars, as well as to the right and left of each one.
Automotive lighting continues to see rapid product development underpinned by advanced technologies and the needs of car designers to differentiate the product through imaginative lighting solutions. In this multi-part series, extracted from just-auto's QUBE research service, we take a look at the sector and latest developments.
Lighting is, self-evidently, a crucial safety technology for vehicles and pedestrians, enabling the vehicle to be seen at night or in poor visibility conditions and for the driver to see pedestrians, other vehicles and obstacles. The benefits of vehicle lighting are most obvious at night when, according to the German website licht.de, more than half of the fatal accidents on the road occur. In addition to dark being a contributory factor to accidents, fog is another major cause of accidents; during the day, it has been estimated that fog is responsible for around one-third of weather-related accidents.
Automotive lighting divides into a number of clear product and technology categories, ie: front headlamps, front fog lamps, stop or brake lights, side lights/indicator lights form the main categories; day time running lights which are now mandatory in Europe - and which will become mandatory elsewhere over time - form another new category
Automotive lighting technology is evolving quickly and is rapidly moving away from the traditionally passive nature of its function and towards computer-controlled, active, smart systems. Sophisticated dynamic driver-assistance technologies and vehicle lighting systems are being increasingly integrated into comprehensive driver vision and driver assistance systems.
All the major players in lighting are active in the development of LED headlamps and variable-beam adaptive headlight systems.
The main lighting manufacturers' products have long been differentiated less by fundamental technology than by unique features and their underlying engineering and design philosophy. They compete not only on cost and quality, but also on design, style and derive much business from the longevity of their relationships with their vehicle manufacturer clients . Vehicles' lights are highly conspicuous both during the daytime, especially since the introduction of mandatory rules on day time running lights, and after dark. As technology advances have allowed radical departures from traditional designs, designers have increasingly adopted LEDs; these greatly aid the development and visual enhancement of vehicle brand identity and to advertise the lights' level of technology - and, by extension, the technical level of the car itself and the manufacturer as a whole.
Even in lighting-conscious markets such as Europe and Asia, vehicle manufacturers have found it a slow and difficult process to stimulate sales of relatively costly high-technology lighting through consumer education regarding the safety and performance benefits of such lighting. As a result, market penetration of better-than-basic lights has tended to fall substantially short of initial predictions - for example HID Xenon headlamps have never approached the high market penetration rates predicted at their introduction. Vehicle makers and lighting suppliers are beginning to use design and style levers to work around this roadblock, and in the long run LEDs will shift the technological landscape dramatically. Some VMs are also offering advanced lighting as standard to increase their overall perceived technology standard and also reduce part costs as volumes rise.
The industry has learnt lessons from the problems experienced with getting superior HID Xenon headlamps widely accepted as potentially standard equipment; it is likely the ramp-up of the present significant shift in fundamental technology, to LED headlamps, will follow a very different path to that which took place with the previous technoligy shift from the last one, from halogen to HID Xenon lights. This is not to say that LED headlamps' market penetration will be a foregone conclusion; there remain stiff technical and economic challenges before such lamps shift from remarkable novelty to commodity item. However, the convergence of LEDs' evolving performance and their suitability for increased demand for reduced power consumption means that LED headlamps should have an easier path to achieving market acceptance.
The profile of the automotive lighting industry has lately been undergoing rapid and significant change, under the combined influences of multiple forces. Lighting regulations, once very different in terms of technical details around the world, are now much fewer in number and substantially harmonised in content - although there are still differences between Europe and North America in particular. However, areas of lighting performance which have been long unregulated, such as pedestrian compatibility in crashes, are now being integrated into regulations that will significantly affect the way in which future lamps are designed and built.
On the suppliers' side, there has been a great deal of consolidation giving rise to global or major regional players, rather than nationally-based companies. At the same time, as technologies have evolved, vehicle stylists and buyers have grown considerably more daring and demanding, so the wide range of options, considered until recently a mere luxury, is now a necessity.
Advanced technologies
Across the world most car lights are still halogen, but there is a steady move towards LEDs both for rear and more recently front lights, with the move to front LEDs having been preceded by the introduced on high-intensity Xenon lights. The list of models available with LED headlamps as optional or standard continues to lengthen.
The other area of technology change within lighting concerns adaptive or intelligent lighting functions which are part of ADAS (advanced driver assistance systems).
Headlamps which can "see around corners" and automatically adjust their intensity and/or alter their beam direction are becoming increasingly widely available. This has led to closer co-operation between lighting set suppliers and suppliers of body control modules. Hella, which has a strong presence in a number of electronic technologies other than lighting, is especially well-placed to take advantage of trends in this area.
Hella's Matrix LED headlamp system
Hella has announced that it has developed and supplied to Audi a headlamp system that automatically adjusts high-beam light patterns for other traffic and pedestrians.
Recently introduced on the Audi A8 in Europe, Hella's Matrix LED headlamp system uses camera-based technology to create glare-fee "tunnels" in front of a vehicle. The system allows car owners to continually use their high beams without fear of blinding other drivers, it is claimed.
Each headlamp contains 25 electronically controlled LEDs that provide an "almost infinite variety of light patterns while eliminating the need for mechanical parts to pivot the lamp". The headlamp can be operated at full power or its intensity lowered as required.
The system's individually controlled LEDs make it possible to create two or more "dark" zones or tunnels for traffic ahead to maximise both safety and visibility. For example, if there are two oncoming vehicles, Hella's matrix headlamps actually will "mask out" the approaching vehicles, while maintaining high-beam lighting between the two cars, as well as to the right and left of each one.
In addition to creating glare-free traffic zones, Hella's matrix high beams also adjust to provide maximum lighting along bends and curves in the road.
Hella says that LED lighting is much closer to natural sunlight than other light sources and helps reduce a driver's susceptibility to fatigue. Without the need for mechanical parts, pivots or shutters, automotive LED lighting also is more durable than traditional lighting and has the potential to last the lifetime of a vehicle, it is claimed.
In addition to their work on Audi's Matrix LED system, Hella and Audi also have developed for the A8 a new Xenon headlight and an LED headlamp with a static high beam for the US market.
BMW's i8 features laser headlights
The BMW i8 is the first production vehicle in the world to use laser headlights and BMW has worked with Osram on the new system.
Osram has acquired the competence required in this field through its long-standing tradition with fluorescent materials and the experience it has accumulated in similar laser-based systems for applications in medical technology (endoscopic equipment) and in video projectors.
Laser technology, potentially, opens up completely new directions in headlight design. Laser diodes are around ten times smaller than LEDs. This is complemented by their particularly strong luminance, which far exceeds that of existing light sources. This means that headlights can be made even smaller in the future - without having to compromise on light intensity. The primary benefit for drivers is that such headlights have the longest range provided by any current headlight technology. This gives the driver improved visibility, resulting in increased road traffic safety.
BMW cautions that there "is still a long way to go, however, before high beams emitted by laser modules have achieved the ubiquity of halogen or xenon lights".
BMW claims that laser headlights are around 30% more energy-efficient than the standard LED headlights and provide more powerful road illumination, with a range of up to 600m.
Global automotive OE lighting market - forecasts to 2034
Global automotive OE lighting market - forecasts to 2034
This report from just-auto provides a comprehensive overview of the global OE automotive lighting sector, major suppliers, top 14 markets, technology trends and market size forecasts. Use this report ...read more
Company analysis
Most popular news
---
Most popular insights
---
Oops! This article is copy protected.
Why can't I copy the text on this page?
The ability to copy articles is specially reserved for people who are part of a group membership.
How do I become a group member?
To find out how you and your team can copy and share articles and save money as part of a group membership call Shivani Hayer on
+44 (0)1527 573 732 or complete this form..