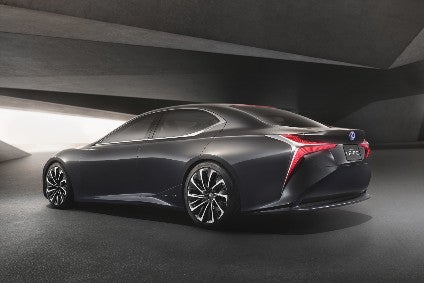 There has been a flurry of announcements in recent weeks concerning the next wave of high-tech components.
Information on the majority of the following models can be found by searching PLDB, just-auto's global vehicle database. Simply click on the link at the end of this list to buy a subscription, or to try PLDB for free.
TMC and Honda continue to push one another towards eventual series production of vehicles which run on hydrogen. A Lexus concept at the Tokyo show demonstrated new ways of packaging a fuel cell stack (at the car's rear, with the hydrogen tanks in T-formation). Will this be the layout for the big Toyota and Lexus 'FC' cars under development and due for release from 2017 onwards? Further details of the future Lexus LS and FCV are now in PLDB.
Honda used the Tokyo motor show to impress upon visiting journalists that it has no intention of being left trailing in the high-tech wake of its far larger rival. A ten-speed automatic transmission is on the way and likely to be seen in the next generation of North America's big Odyssey minivan.
Honda's second large hydrogen-propelled vehicle was also fully revealed in Tokyo. This is the Clarity Fuel Cell, which has an interesting name. The first part continues the lineage of the FCX Clarity first seen in 2008 but by adding the other two words, we see that Honda intends to fit other powertrains to this new model. So expect to see Clarity become a range of low or zero emissions vehicles.
Other advanced tech, in the form of 48V electrical systems, is also drawing ever closer to production. The Volkswagen Group looks like being one of the frontrunners, with next year's Bentley Bentayga SUV to be fitted with such a system. That will also mean the technology should become available in the related Audi Q7 & future SQ7 and Porsche Cayenne replacement, as well as the next generation Audi A8.
Several size and price rungs below all of the above future models, there has also been a lot of new information added to many other cars due out by both decade-end and into the 2020s. If you want to know what the next generation Nissan Leaf will look like, the recent IDS concept provides some clues. And as for 2017's Honda Civic hatchback, its basic petrol engine will be a fresh design with just three cylinders and a 1.0-litre capacity (replacing the atmospheric 1.8).
FCA has been quietly rejigging some of its plans in recent weeks, with Maserati's Alfieri reportedly now delayed by 24 months. That means the coupe won't now appear until 2018, with the roadster to follow in 2019. There are also new timings for the Alfa Giulia. And if you're a fan of the Dodge Viper, then there's some sad news as production is expected to end in 2017 due to disappointing sales. The Connor Avenue plant which builds it is scheduled for closure too.
In Russia, where most people seem to believe investment in production plants must be falling as vehicle sales continue to plummet, some manufacturers are instead spending on production facilities. That includes AvtoVAZ, which has created a so-called 'Lada B' platform for the new Vesta small sedan which has just entered production at the Izhevsk plant in the Western Urals. Other cars, such as the X-Ray will follow. Some of these will use Renault-Nissan Alliance architectures – Lada may have a brighter future than some doubters would have us imagine.
HMG is paying no attention to the doomsayers either, having just invested heavily in its St Petersburg plant. The next generation of Hyundai's big-selling Solaris small car is set to enter production there in the fourth quarter of 2016 alongside, and – this is a surprise – a small SUV based upon China's ix25 and India's Creta B-crossovers. As the Solaris was Russia's number one model in September, just ahead of the Kia Rio, HMG's plans matter.
Renault, another serious player in Russia, has its own plans for SUVs in the local market. Word is, an extended Captur is under development. This will be a model for multiple plants, and is said to be codenamed HHA. Suppliers talk of eventual production not only in Russia but also India, Brazil and potentially, China.
Finally, Suzuki. This company is so often overlooked but with the end of the Volkswagen shareholding issue now resolved, we can begin to see what it has planned. Production targets are aggressive and of course, Maruti is a big part of the overall picture. But no longer mainly as a force in the Indian market only: production of the new Baleno has just begun and this car will be exported to over 100 countries. Worth noting too, that this is the first Suzuki to be shipped from India to buyers in Japan.
Let's also not forget Suzuki's Indonesian plant at Cikarang which is now ramping up production. Combined with another facility, this means the company now has 250,000 units of annual capacity in the world's fourth most populous nation. Suzuki will also add the same number of units to its Indian capacity in 2017 with the opening of a facility in Gujarat. So in that context, some of the future small vehicles planned for launch in the coming years – the YBA and YCA spring to mind – are more important than might at first seem to be the case.
PLDB (Product Lifecycle DataBase) from just-auto.com is a model level database. PLDB puts information on the production life of over 3,000 current and future models globally by 251 brands from 170 groups at your fingertips.
To view further information on these, or any of the 3000+ models covered in PLDB, visit this link