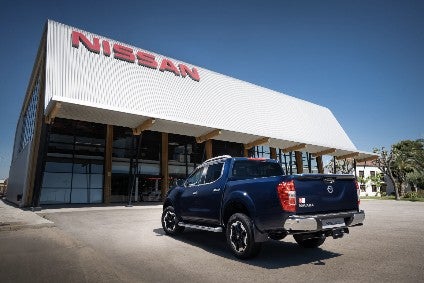 Six years old and likely to have many more remaining in the production cycle, the Nissan Navara has had an update for 2020. This, one of the world's best selling pick-ups, available in 109 markets and built in multiple regions, now has a 2.3-litre diesel which complies with Euro 6d Temp plus a raft of other engineering improvements.
Known as the NP300 in certain countries, this generation Navara has been around since 2014. Nissan put it into production at a plant near Bangkok during July of that year before doubling the annual capacity of the Samutprakarn factory to 150,000 units in 2015. Build also takes place in Argentina, Mexico, China and Spain.
The standard engine in most markets has always been YS23, which is the code for an Alliance 2.3-litre DCi four-cylinder diesel. That's also the powerplant which Nissan Europe has now revamped for the region's latest emissions regulations and which for the Navara, will apply until December 2021. RWD and 4WD variants are available, as are new six-speed manual and seven-speed automatic transmissions.
There are two versions of the bi-turbo diesel: 120kW (163PS) or 140kW (190PS). These is also more torque for the base unit, this having risen by 22Nm to 425Nm. The 140kW version's torque is unchanged at 450Nm. Nissan says the injection system's pressure has increased from 2,000 to 2,200 bar via a new pump, which supposedly makes it more efficient. Another change is a redesigned exhaust system with Diesel Particle Filter (DPF) and Selective Catalytic Reduction (SCR) technologies and therefore lower NOx emissions.
Aside from the all-important lower emissions engine, a couple of other engineering changes are disc brakes (308mm in diameter) for the back end – it's not unusual for pick-ups of this size to have rear drums – and the standardisation of a five-link rear suspension system. The front discs are also new, increasing in diameter by 24mm to 320mm. Base trucks also gain 17-inch (steel) wheels whereas pre-2020 spec they had 16-inchers.
Nissan says the stopping distance is improved but just as importantly, what it doesn't mention are tyres which will more reliably stay planted on bitumen in an emergency. Manufacturers selling pick-ups with cart springs at the back end don't like to acknowledge what can be alarming sudden sway when the truck is unladen and there's an emergency stop. And in normal conditions, often a thumpy ride. In this case, sophisticated bent metal springs now make all the difference.
Until now, Nissan Europe's NP300/Navara, launched here in 2015, was in some ways two vehicles. Double Cabs (5,280mm long) have always had the multi-link set-up, yet the King Cab (5,210mm) made do with leaf springs. For many customers, that mattered not, as their priorities continue to be hauling materials for work rather than ever being concerned about how comfortable the ride was for non-existent or only ever occasional rear bench passengers.
Thanks to the new suspension, King Cab trucks have their payload rating raised by 55-95kg (depending on specification). This is now 1,165kg (and Permissible Total Weight of 3,200kg). There is also an improvement for Double Cabs, the extra capacity being 54-114 kilos (depending on specification), taking total payloads to 1,115–1,180kg and a PTW of 3,250kg.
The immediately obvious change you notice sitting in the driver's seat is NissanConnect, a new infotainment system for what is now an eight-inch screen, while there are also connected services which can remotely control certain functions.
For Tekna, and that's the best selling model grade, Hill Start Assist, Hill Descent Control, Intelligent Emergency Braking and Nissan's Intelligent Around View Monitor are now all standard. The brand also gives all of its LCVs a 160,000/five-year warranty.
I wanted to see how the new suspension and brakes performed and the answer is noticeably better. OK, there's a lot of body sway if you try to drive the Navara like a sports car and you cannot mistake the steering feel for that of a Qashqai. However, it's not that vague either and in common with the best one-tonne pick-ups, drive normally, take your time and the Navara can be a really pleasant way to get about. The only real hassle is the length when parking in many spaces. At least you get five proper seats in that body style, the King Cab really only being a 2+2.
Summary
From having been a worthy if not quite top-tier contender in what's a fairly crowded class, the Navara is now up there with the Hilux, Amarok and a couple of others. Nissan's efforts to improve the engines, transmissions, brakes and braking systems, as well as the better infotainment and safety equipment have been time and money well spent.
Life cycle
Nissan will almost certainly facelift the Navara later in 2020 and keep it in production in some countries until 2023, but longer in others. That's due to the fact that the USA's Frontier, an ancient pick-up, will be replaced for the 2021 model year, this truck probably being based on the rest of the world's Navara/NP300. So while the US and Canada are not part of the one global model programme at the moment, they will (sort of) become so fairly soon and stay that way for perhaps three years. We already know that the 2021MY Frontier will be powered by a new 3.8-litre V6 but the vehicle itself hasn't been revealed.
The next Frontier for Thailand, other parts of Asia, South America, South Africa, Oceania and Europe is reported to be a Mitsubishi-led project, its platform being an evolution of the one developed for the existing L200/Triton. We already know that there won't be a second generation Mercedes-Benz X-Class, at least not one that has anything to do with the R-N-M Alliance, as the current Navara-based one is about to be axed. And looking at how the Alaskan has been selling since its release in 2017, nobody will be surprised if and when Renault drops that model and rules out a successor.
The updated Nissan Navara costs from GBP22,350. The C02 averages for the two engines and manual/auto transmissions are 182-194g/km.