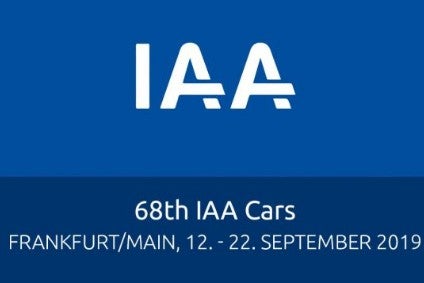 The media preview days of the 2019 Frankfurt IAA brought a few surprises. Volkswagen (a camouflaged and altered I.D. Crozz which will be called ID.4), Hyundai (i30 N Project C), FAW (Hongqi S9 & E115 prototypes) and BMW (i Hydrogen Next, and the Concept 4: yes, the one with THAT grille) were among the OEMs showing unheralded vehicles.
More information about future models can be found by searching PLDB, just-auto's global vehicle database. Simply click on the link at the end of this list.
Audi AI:Trail quattro concept: 4.15m long design study meant to point towards what the brand's cars may look like in a decade's time rather than a preview of a production model.
Audi A1 citycarver: a 4cm lift for the ride height, two slots instead of three in the plastic panel below the bonnet, bespoke bumpers and other exterior changes.
Audi A5 Sportback, A5 Coupé and A5 Cabriolet facelifts: there is also a revised range of engines.
Audi A6 allroad: announced to the media in June, it has standard all-wheel drive, pneumatic suspension (air bellows and shock absorbers) and up to 45mm more ground clearance than other versions of the A6 Avant. For European markets, there are three versions of a 3.0-litre V6 diesel, each of which features Mild Hybrid technology and a 48V electrical system. All are linked to an eight-speed automatic gearbox which Audi terms a tiptronic. The three variants are the 45 TDI which has outputs of 170kW (231PS) and 500Nm (369 lb-ft); the 50 TDI which produces 210kW (286PS) and 620Nm (457 lb-ft); and the 55 TDI, power and torque of which are 257kW (349PS) and 700Nm (516 lb-ft).
Audi e-tron 50 quattro: the lower number represents a 71kWh battery pack compared to the 55's 95kWh pack. Outputs are 230 & 540Nm, WLTP range is 300km.
Audi Q3 Sportback: 4.5m long and categorised as a compact SUV coupé by its maker.
Audi Q7 facelift and SQ7 TDI facelift: on sale from mid-September, this was the motor show premiere for each.
Audi RS 6 Avant: powered by a 4.0-litre twin-turbo TFSI petrol V8 which is boosted by a 48V belt alternator/starter mild-hybrid system. Outputs are 441kW (600PS) and 800Nm (590 lb-ft). Unlike the outgoing car, this one will be available in the USA.
Audi RS 7 Sportback: has the same powertrain as the RS 6 Avant and will be in European market dealerships from year end.
Audi S5 Sportback, S5 Coupé and S5 Cabriolet facelifts: there is now a diesel for mainly European markets and a 3.0 TFSI for other regions.
Audi SQ7 TDI facelift: announced in June, this was its public premiere. There were no changes to power (320kW) and torque (900Nm).
Audi SQ8 TDI: as with the SQ7 TDI, the engine is the Volkswagen Group's 4.0-litre diesel V8. Outputs are 320kW (435hp) and 900Nm. As well as an electric compressor, there are two conventional turbochargers.
BMW 1 Series: F40 five-door hatchback isn't RWD as it's now based upon Frontantriebsarchitektur, a new platform derived from the existing UKL1 and UKL2.
BMW 3 Series Touring: lengthier and roomier than the F31 Touring which it replaces, G21 will also be available as a PHEV in 2020.
BMW 8 Series Gran Coupé: revealed at an event in Munich in June with sales commencing in September.
BMW Concept 4: this preview of G22, the next 4 Series Coupe, has a grille which, once seen, is not easily forgotten.
BMW i Hydrogen NEXT: prototype of a modified X5 which is powered by a fuel cell and heralds a potential production model for late 2022. The concept has many blue accents as hydrogen-powered BMWs are part of the i sub-brand. BMW AG and TMC continue to work together on fuel cell technology.
BMW M8 Convertible: same powertrains as the M8 Coupé, which was a world premiere at the Goodwood FoS in July. M8 Gran Coupé will debut at the LA show in November.
BMW Vision M Next: petrol-electric supercar concept powered by a 2.0-litre engine and two motors, was revealed to media in June.
BMW X1 facelift: extended wheelbase versions premiered at the Chengdu motor show earlier in September, Details of the mid-life facelift were released to the media in May.
BMW X1 xDrive25e: this petrol-electric plug-in hybrid powertrain, formerly exclusive to China's extended wheelbase xDrive25Le, now becomes available in standard wheelbase form.
BMW X6: F16, the previous generation model, lasted just five years and was never facelifted. Measuring 4,935mm, G06, the new one, joins the BMW trend for ever bigger vehicles, this one gaining 26mm while its width crosses the 2m mark at 2,004mm.
Byton M-Byte: no explanation for the delays from the previously stated fourth quarter of 2019 but the launch will now be mid-2020 for China and 2021 for Europe and North America. Changes since the previous prototype was revealed at CES in January include different headlights, pop-out door handles and conventional door mirrors rather than cameras.
Cupra Tavascan Electric Concept: a large SUV coupe powered by two motors with a combined output of 225kW (306PS) and a 77kWh battery pack.
Ford Explorer Plug-In Hybrid: this was its public debut after a media preview in April. The PHEV is only for LHD markets but will not be offered in North America. That region instead gets an Explorer Hybrid powered by a 3.3-litre engine. The Plug-In Hybrid powertrain consists of a 350PS 3.0-litre petrol V6 and one 100PS motor, producing combined outputs of 450PS and 840Nm. The range in EV mode is claimed to be up to 40km (25 miles) from a 13.1kW battery pack. All-wheel drive is standard for this seven-seater, as is a ten-speed automatic gearbox.
Ford Kuga Hybrid: this SUV and its US-built Escape Hybrid twin were announced by Ford of Europe and by Ford Motor Company on the same day. They were part of a presentation which also included the latest generation Kuga and a plug-in hybrid being shown to the media at an event in Amsterdam in April. The IAA is where their public premieres took place. The hybrids are powered by a 2.5-litre four-cylinder petrol engine linked to a CVT. Combined power is 198hp, top speed on energy stored in the 1.1kWh battery is 85mph (137km/h), while the pack itself is small enough to be positioned below the boot floor without intruding on cargo capacity.
Ford Kuga Plug-In Hybrid: public premiere after this vehicle and its Escape PHEV twin were shown to the media in April along with the Escape and Kuga plus hybrid versions of both. The PHEV variants should be on sale late in the first quarter of 2020, some six months after the arrival of other Escapes and Kugas. As with the hybrid, the PHEV is powered by a 2.5-litre four-cylinder petrol engine and one motor, although the combined output is higher, at 209hp (225PS quoted by Ford of Europe). The battery pack has a capacity of 14.4kWh. The US-spec Escape Plug-In Hybrid takes three and a half hours to be recharged via a 240V Level 2 charger, Ford claims, or 10-11 hours on a standard 110V wall socket. The maximum range is said to be 48km or 30 miles. Ford of Europe says a 230V charger takes "around four hours" to replenish a depleted battery.
Ford Puma: to be manufactured in Romania from Q4, this small crossover is based on the Fiesta and sits 30mm higher. The IAA was also where the Titanium X model grade was revealed. This offers 18-inch wheels, a different grille and other touches which mark it out from other Pumas, although there are no mechanical differences.
Ford Tourneo Custom Plug-In Hybrid: also announced and displayed to the media at Ford's Amsterdam preview in April, this eight seat MPV goes on sale in European countries in late 2019. There is also a delivery van version. The front axle is driven exclusively by a motor/generator, powered by a 13.6kWh lithium-ion battery pack. A 1.0-litre EcoBoost petrol engine acts as a range extender. The hybrid powertrain targets a zero-emission driving range of up to 50 km (31 miles) or 500 km (310 miles) using the range extender.
Honda e: production version of e Prototype concept from Geneva show premiered exactly two years after the first concept. Maximum range is a mere 220km and there are both 100kW and 113kW versions. Digital exterior mirrors will be standard. Car's European launch delayed from the previously stated "by the end of 2019" to "spring 2020" and now to "early summer".
Hongqi E115 concept: has looks which are not dissimilar to BMW AG's X7 and Cullinan SUVs. The head of Design at FAW Hongqi (Red Flag) is Giles Taylor, who is ex-Rolls-Royce.
Hongqi S9 concept: a surprise that the FAW division, which does not sell cars in Europe, chose the IAA as the venue to reveal this butterfly-doors supercar prototype. Said to be powered by a turbocharged 4.0-litre V8 assisted by electrification which produces 1,029kW. A production run of 70 cars is claimed.
Hyundai 45 concept: an electric crossover which resembles the 1970s-1990s Lancia Delta but is instead meant to be channelling the Hyundai Pony Coupe, a Giugiaro concept from 1974.
Hyundai i10: Production will commence in Turkey and India during the fourth quarter. India's car is the Grand i10 Nios and the outgoing model (Grand i10) continues.
Hyundai i30 N Project C: loses 50kg and has its suspension lowered by 6mm, features lacquered CFRP body parts (front splitter, rear diffuser, bonnet and N-branded side sills).
Jaguar XJ replacement rear end image: flashed up during the Defender presentation, has full-width tail lights (or to use SEAT's term, 'Coast-to-Coast rear highlights'), while insiders speak of a 90.2kWh battery pack and a WLTP range of up to 470km. Production starts at Castle Bromwich in late 2020.
Lamborghini Sián FKP 37: brand's first hybrid supercar to have a powertrain consisting of Lamborghini's existing 6.5-litre V12 paired with a 34hp motor on the rear axle. Official combined power is 602kW (819hp). The company will make 63 cars to commemorate the year of the firm's founding. The name Sián means a flash or lightning in the Bolognese dialect and the FKP 37 is in honour of Ferdinand Piëch and his year of birth.
Land Rover Defender: only the 90 and 110 bodies have been announced but there will be a 130 too. These numbers are links to the wheelbase dimensions in inches of the old Defender. The 4,323mm long standard wheelbase 90 three-door will have seating for five or six (production to start in March 2020); the 4,758mm extended wheelbase 110 five-door will seat five, six or seven (November 2019); and the 5,100mm long extended wheelbase 130 five-door will seat eight (August 2020).
Mercedes-AMG GLB 35 4MATIC: powered by a 225kW (306hp) and 400Nm 2.0-litre four-cylinder turbo and with seating for up to seven occupants.
Mercedes-AMG GLE 53 4MATIC+ Coupé: replaces the GLE 43. No news yet of a successor or successors for the 5.5-litre biturbo GLE 63 4MATIC Coupé and GLE 63 S 4MATIC Coupé.
Mercedes-Benz A 250 e & A 250 e Saloon: PHEVs powered by the combination of Daimler and the R-N-M Alliance's 1,332cc petrol engine and a motor. Outputs are 160kW (218hp) and 450Nm.
Mercedes-Benz B 250 e: same plug-in hybrid powertrain as the A 250 e, maximum range in EV-mode of 70-77km (NEDC), 15.6kWh battery pack which weighs a claimed 150kg.
Mercedes-Benz ESF concept: latest experimental safety vehicle is based on the GLE-Class and has many innovations, including heated seat belts.
Mercedes-Benz EQV: a prototype was at the Geneva show in March but this is the production model, which has a 90kWh battery, a claimed range of 405km and 150kW of power.
Mercedes-Benz GLB-Class: revealed to the media at an event in Utah in June, the IAA was the motor show premiere.
Mercedes-Benz GLC 300 e (GLC 350e in USA): other facelifted GLCs were announced in July, this PHEV is powered by a 1,991cc four-cylinder petrol engine plus a single motor. Energy is stored in a 13.5kWh battery, with the NEDC range on electricity said to be 46-49km or, according to WLTP, 39-43km. The combined outputs are 235kW and 700Nm. Mercedes-Benz USA quotes power and torque as 315hp and 516 lb-ft.
Mercedes-Benz GLE 350 de: powered by a 1,950cc four-cylinder diesel and a motor, with a 31.2KWh battery pack. Combined outputs for this PHEV are 235kW and 700Nm.
Mercedes-Benz GLE Coupé: only two variants have been announced, both 2.9-litre straight-six diesels. These are the GLE Coupé 350 d 4MATIC (200kW/272hp & 600Nm) and GLE Coupé 400 d 4MATIC (243kW/330hp & 700Nm). Petrol engines and a petrol PHEV to replace the GLE 500 e Coupé will be announced in due course.
Mercedes-Benz Vision EQS: 5,295mm long concept is a rough preview of the EQS, an electric sedan. Two motors produce a claimed 350kW and 760Nm, while the range is said to be up to 750km (466 miles).
Mini Electric (officially Cooper SE): to be available only as a three-door hatchback, the 1,365kg Electric is claimed to be 145 kilograms heavier than a Cooper S 3 Door with Steptronic transmission. The motor produces 135kW (184PS) and 270Nm while maximum range is quoted as between 235 and 270 kilometres. The gross energy content of the battery is 32.6kWh.
Opel Astra facelift: engine line-up also changes and now features 1.2 and 1.4 petrol plus 1.5 diesel units with various outputs, six-speed manual gearboxes, a CVT and a nine-speed automatic.
Opel Corsa: based on Dongfeng and PSA's CMP, the new model will be manufactured at Opel's Figuerelas (Zaragoza) plant.
Opel Corsa-e: BEV version of the new model goes into production in December.
Opel Grandland X Hybrid4: was revealed to the media in the summer. This 300PS and AWD PHEV will be in showrooms towards the end of 2019.
Porsche 911 Carrera 4 Coupé and 911 Carrera 4 Cabriolet: same 283kW (385PS) 2,981cc biturbo flat six and ZF eight-speed PDK dual clutch transmission engine as the RWD variants. But torque, at 440Nm, is 10Nm less.
Porsche 911 Carrera Coupé and 911 Carrera Cabriolet: entry level variants powered by a new 283kW (385PS) and 450Nm version of the biturbo 2,981cc flat six.
Porsche Cayenne E-Hybrid Coupé and reintroduction of Cayenne E-Hybrid: 340kW (462PS) combined power with a newly adopted particulate filter.
Porsche Cayenne Turbo S E-Hybrid and Cayenne Turbo S E-Hybrid Coupé: 500kW (680PS) and 900Nm combined outputs from 4.0-litre V8 and one motor.
Porsche Macan Turbo: powered by a 324kW (440PS) and 550Nm 2,894cc biturbo V6. This is 29kW more than the former 3.6-litre biturbo V6. The transmission is a seven-speed PDK (twin clutch).
Porsche Taycan Turbo & Taycan Turbo S: the electric hatchback was revealed to the media on 4 September, the public premiere being at the IAA. It goes on sale towards year-end. Torque in the Turbo S is up to 1,050Nm.
Renault Captur: second generation model uses same architecture as new Clio and their looks share much too. Codename is HJB.
Renault Captur E-Tech Plug-in: powered by a 1.6-litre four-cylinder petrol engine and two motors. The capacity of the battery pack is 9.8kWh. Renault claims an EV range of up to 45km or 28 miles. The standard transmission is a CVT.
SEAT Mii electric: this BEV version of the A segment hatchback is also SEAT's first fully electric car. Production of other Mii variants ended in July.
SEAT Tarraco FR PHEV: only this top-spec model grade was at the IAA but lesser trim levels for the plug-in hybrid will be added later. Combined power is 180kW (245PS) thanks to a 110kW (150PS) 1.4-litre petrol turbo and an 85kW (116PS) motor. The range is up to 50km, SEAT claims, while the battery pack has an output of 13kWh. The company left it until press day to state that the Tarraco plug-in hybrid would not be available until "late 2020".
Škoda Citigoe iV: motor show debut for the brand's first electric car after a public premiere at the IIHF Ice Hockey World Championship in Bratislava back in May. More or less the same vehicle as the Volkswagen e-up! and SEAT Mii electric.
Škoda Superb iV: motor show debut for this petrol plug-in hybrid follows the public premiere at the IIHF Ice Hockey World Championship in May.
Škoda Superb Scout: motor show debut follows the public premiere at the IIHF Ice Hockey World Championship in May.
smart EQ fortwo & EQ forfour facelifts: the end of combustion-engine versions coincides with the arrival of revised electric ones. For the first time, the cars have different front ends. Maximum range is 159km (NEDC).
Volkswagen ID.3: public debut of the brand's first MEB architecture EV. There are three power outputs and the ranges are 330, 420 and 550km (WLTP).
Volkswagen T-Roc Cabriolet: two-door four-seater body is 37mm lengthier than Europe's standard wheelbase T-Roc, while the wheelbase is extended by 34mm.
Volkswagen e-up! facelift: 18.7kWh battery is replaced by one with a capacity of 32.3kWh and the maximum range increases to 260km.
Wey GT-Pro: "At this year's IAA Cars Frankfurt/Main, WEY brand will launch a new product jointly developed with Brabus Automotive in Germany, bringing their cooperative results to consumers", said a media release on 6 March. The GT-Pro, which is based on the VV7 GT, turned out to be that product. Changes included lowered suspension, a body kit, a rear diffuser and unique exhausts.
Wey-S concept: said to be a preview of the next VV5.
Wey-X concept: Level 5 autonomy and there are two external screens; one at either end of this SUV to send messages to pedestrians and those in the car(s) behind.
ZF EVplus concept: a BMW 3 Series sedan-based PHEV with a 35kWh battery pack. Claimed to run for 100km (62 miles) under real-life conditions
Brands which will not be at the show: Abarth, Alfa Romeo, Alpine, Aston Martin, Cadillac, Chevrolet, Citroën, Dacia, DS, Ferrari, Fiat, Infiniti, Jeep, Kia, Lagonda, Lexus, Mazda, Mitsubishi, Nissan, Peugeot, Rolls-Royce, Subaru, Suzuki, Toyota and Volvo.
Future product program intelligence
Additional data on vehicle life cycles and future product plans, such as code names, production plants and expected annual build, are available in PLDB from QUBE.